S
ix singular little islands off the French coast, geological remnants after the last glaciation. Two known for finance (Jersey, Guernsey) and others not at all (Alderney, Sark). One refuses some the modern scourges (Sark), others embrace innovation (Jersey). A curious mix of English and French ancestry, the islands are proud of their individual cultures and political autonomies acquired from the Middle Ages: each has its own small parliament; Jersey is the home of Gerald Durrell's zoo, set up to breed endangered species from the onset; «Green Lanes» on Jersey or «Ruettes Tranquilles» on Guernsey allow safe and comfortable walking or biking. Altogether these islands form a rather uncommon archipelago relatively unknown to the Swiss. Fascinated by this very special place, we visited these islands and looked for an itinerary of nine days that could easily be done by train from Switzerland.
Length of holiday:
9 days (8 nights)
Departure dates:
Throughout the year
Tempted to go ?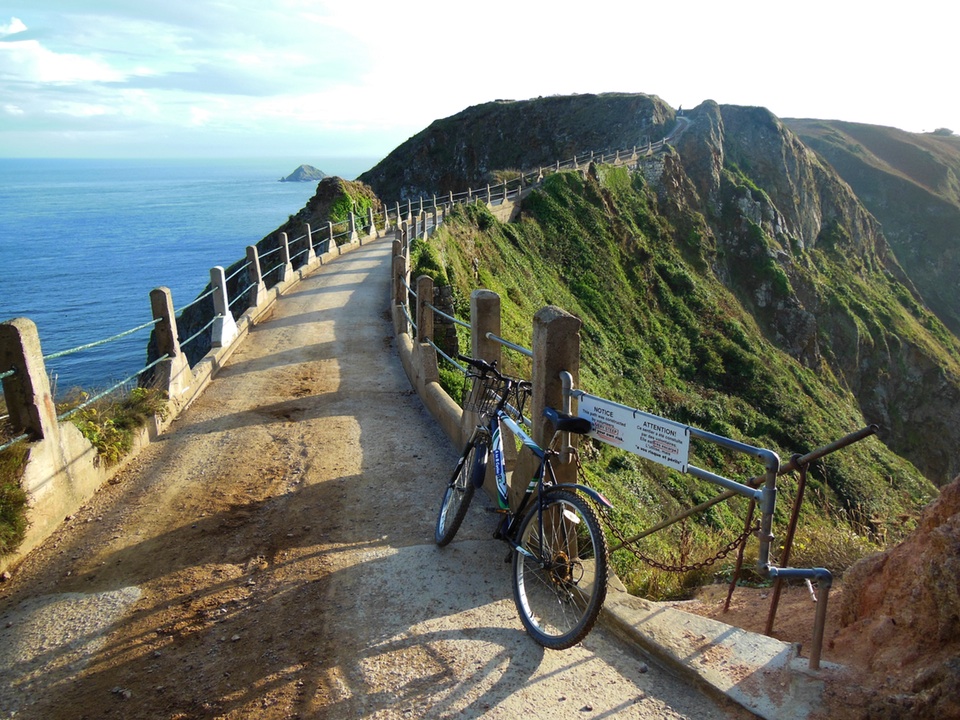 Features of the holiday
| | |
| --- | --- |
| Destination: | Alderney, Channel Islands, Europe, Guernsey, Jersey, Sark |
| Season: | Autumn, Spring, Summer, Winter |
| Responsible travel: | Environment, Environmentally-friendly transportation, Food, Local food, Micro-economy, Possible without flight, Sensitization, Small organization |
| Travel type: | Mixed holidays |
| Traveller type: | Couple, Family, More mature, Small group, Solo, Student |
| Activities: | Bike ride, Observation, Tour, Walk |
| Accommodation: | Bed & Breakfast, Small hotel |
| Natural environment: | Atlantic puffin, Cliff, Island, Northern gannet, Sea, Seaside |
| Culture: | Archeology, Architecture, Artisans, Fortifications, History, Litterature |
| Climate: | Oceanic, Temperate |
Click on the above keywords to browse other holidays with a similar feature.
Itinerary of the holiday
Day 1 : Switzerland-Paris-Saint-Malo by train and then by ferry to St. Helier, Jersey.
Day 2 : Jersey with a local cycling guide.
Day 3 : Ferry to Guernsey. St. Peter Port.
Day 4 : Guernsey by bike or on foot and bus.Victor Hugo's house
Day 5 : Ferry to Sark and explore the island by bike or on foot.
Day 6 : Flight to Alderney from Guernsey and explore St. Anne.
Day 7 : Discover the island by bike or on foot with a naturalist guide.
Day 8 : Flight to Guernsey and Jersey and ferry to Saint-Malo.
Day 9 : Train Saint-Malo-Paris and Paris-Switzerland.
Extended stay on the islands and/or in Saint-Malo possible.
Map
Length of the holiday

9 days (8 nights)

Departure dates

Throughout the year

Price

CHF 2,315.– (1 pers.)
CHF 1,975.– (2 pers.)
CHF 1,905.– (3 pers.)
CHF 1,870.– (4 pers.)
CHF 1,850.– (5 pers.)
CHF 1,820.– (6 pers.)

Single room supplement: CHF 130.–
Included with the holiday
8 nights Bed & Breakfast or small hotels, breakfasts
inter-island ferries,
round-trip airfare Guernsey-Alderney,
local guide cycling in Guernsey,
an Alderney naturalist guide
2 days bike rental
Not included with the holiday
train between Switzerland and Saint-Malo,
travel insurance,
taxi transfers to Saint-Malo, Jersey and Alderney,
lunch and dinner,
drinks,
tips,
personal expenses