Organic Café
An organic, local and vegetarian café-restaurant, and a sustainable travel agent in the same space – is that possible?
From the first reactions – yes, it is. Organic food and drink is coherent with responsible travel and both are offered in A Taste of Travel.
At mid-day, we serve Soup & Salad, a typically American offering – healthy and balanced, all made with seasonal products. For dessert we offer a choice of a brownie or fruit tart made on the premises.
On Saturday, if the spirit moves you, we suggest a Cream Tea, — scones, cream, strawberry conserve, and tea — so English, and so good.
» Check our menu as well as the special of the day, just to the right.
Our café becomes, once or twice a month, a place for a presentation of one of our trips, on a particular theme, or perhaps a slide-show. For this keep a regular eye on our Events page or ask to be included in our newsletter listing.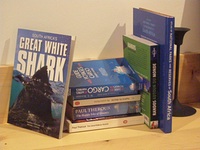 There no need to book a vacation to come for a coffee and to read what we have on offer, or simply to taste our organic range of teas. And there is no need to eat to use our iPads to check out our trips.

Our customers liked what they ate