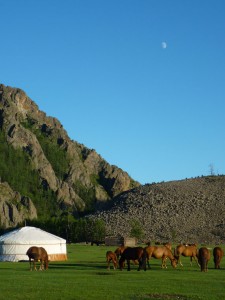 Y
ou will spend your time in the magnificent open spaces throughout your stay, living as the nomads have done for centuries. Meeting with the nomads, learning about their culture, hiking, riding horses and camels. Ulan Bator, Khustain Nuruu Park, Khogno Khan, Karakorum, The Ulaan Falls, Orkhon Valley, Ongi-Bayanzag Monastery, the Singing Dunes Khnogor, Yol Valley, Suvarga- Tsagaan, Baga-Gazriin Chuluu. Then back to Ulan-Bator on this trip you will see and experience all that is magical in this enigmatic country of steppes and nomads – home to the Prezvalsky Horse.
Length of holiday:
15 days (14 nights)
Departure dates:
June to September
Tempted to go ?
Features of the holiday
| | |
| --- | --- |
| Destination: | Asia, Mongolia |
| Season: | Autumn, Summer |
| Responsible travel: | Economy, Environment, Food, Local food, Micro-economy, Sensitization |
| Travel type: | Active holidays |
| Traveller type: | Couple, Family, Small group |
| Activities: | Bactrian camel riding, Camp, Observation, Riding, Sport, Tour, Trekking, Walk |
| Accommodation: | Ger, Hotel, Teepee |
| Natural environment: | Bactrian camel, Desert, Eagle, Horse, Lake, Mountain, Onager, Przewalski's horse, Steppe, Wild ass |
| Culture: | Architecture, Artisans, Buddhism, Customs, Dance, History, Music, Philosophy, Singing, Temple |
| Climate: | Continental |
Click on the above keywords to browse other holidays with a similar feature.
Itinerary of the holiday
Day 1 : Arrival at Ulan Bator & tour of the city, overnight
Day 2 : Visit Khustain NuruuPark and the Prezvalsky Horses
Day 3 : Khogno Khaan mounain, overnight in a teepee
Day 4 : Karakorum, city, museum and the largest Bhuddist temple in Mongolia, overnight in a yurt
Day 5 : Orkhon Valley Ulaan waterfall, overnight in a yurt
Day 6 : the yurts of Bat-Olziit and the Uurtiin Tokhoi spring, overnight in a yurt
Day 7 : the town of Arvaikheer and the Ongi monastery, overnight in a yurt
Day 8 : Bayanzag archeologilical dig and Flamming Cliff, overnight in a yurt
Days 9 et 10 : The singing dunes of Khongor
Day 11 : Yol, a valley nested between the beautiful peaks of Gurvansaikhan mountain
Day 12 : The cliffs of Tsagaan Suvarga, with blood coloured sands
Day 13 : Baga Gazriin Chuluu, an attractive area of rivers and valleys
Day 14 : return to Ulan Bator, Zorgol Khairkhan mountain & flea market in town
Day 15 : Return to Europe
Map
Length of the holiday

15 days (14 nights)

Departure dates

June to September

Price

2 persons : CHF 2,950.– per person
4 persons : CHF 2,350.– per person
Included with the holiday
all activities described in the itinerary
2 nights twin or doulbe room in a hotel in Ulan-Baator with meals
12 nights camping
all meals with mineral water
francophone guides
drivers
all transfers and transport over the trip
entry fees
Not included with the holiday
flights
drinks other than mineral water
sleeping bag, should you want
tips
laundry
personal effects
There is no video for this holiday at the moment.