T
his is where Europe ends: 38 degrees North and 30 degrees West, some 800 nautical miles from the nearest coast, in the middle of the Atlantic Ocean. The Azoreans, isolated for centuries, have survived on their resources of agriculture, fishing and…. whale hunting. Melville drew inspiration from such odysseys to write his epic tale, «Moby Dick». Since 1984, harming cetaceans has been strictly prohibited. However, the spirit of the mighty sperm whale lives on, and the yearnings of the Azorean «mestres» are invariably for the sea. From these magical surroundings, you will set out for an encounter with these noble creatures armed with only inflatable rafts and cameras. We end this week with a hike to the summit of Pico volcano at over 2,350 meters. From the splendors of the seas to the highest peak of the mid-Atlantic Ridge.
Length of holiday:
8 days
Departure dates:
April to the beginning of November
Tempted to go ?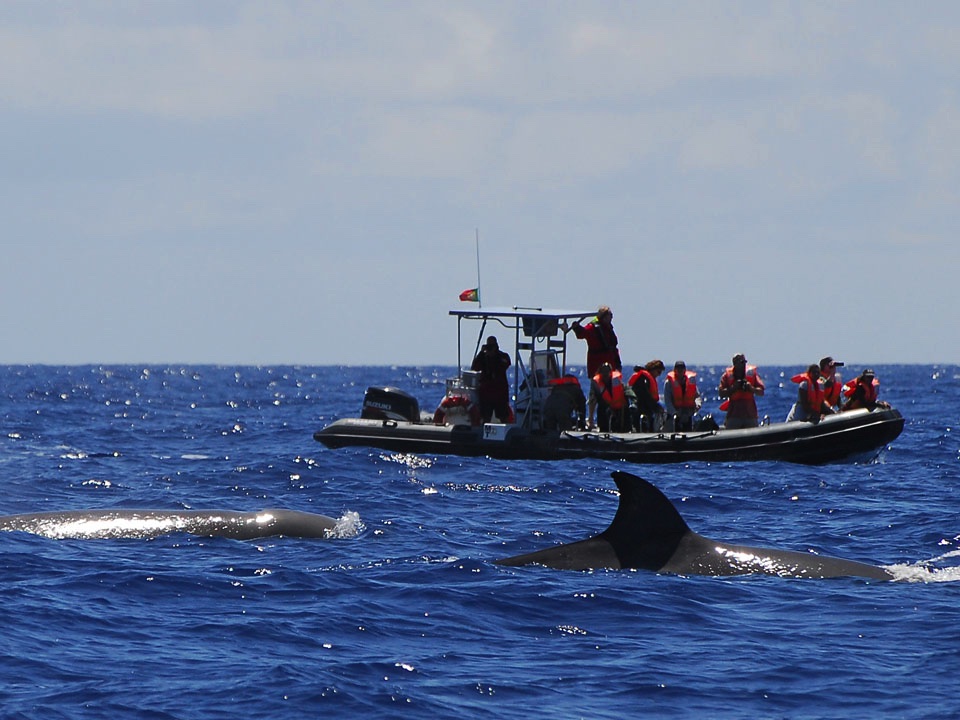 Features of the holiday
| | |
| --- | --- |
| Destination: | Azores, Europe, Portugal |
| Season: | Autumn, Spring, Summer |
| Responsible travel: | Carbon offset, Economy, Environment, Micro-economy, Sensitization |
| Travel type: | Active holidays |
| Traveller type: | Couple, Family, Small group, Solo |
| Activities: | Mountain bike, Observation, Sea kayak, Snorkeling, Sport, Tour, Trekking |
| Accommodation: | Small hotel |
| Natural environment: | Dolphin, Island, Marine fauna, Sea, Volcano, Whale |
| Culture: | Architecture, Vernacular architecture |
| Climate: | Oceanic, Temperate |
Click on the above keywords to browse other holidays with a similar feature.
Itinerary of the holiday
Day 1 : Saturday: Fly to Failal via Lisbon. Welcome at the airport at Horta or Pico, the a ferry to Lajes do Pico- the favoured area for the whales.
Day 2 to Day 6 : At sea every morning weather permitting, observing, listening and watching the whales.
The afternoons are spent at your leisure. The Whaling museum, the biggest whaling library in the world, visiting the with text video and the internet at your disposal, visite à la vigia de Queimada, sea-kayaking, mountain-biking, snorkelling, visit a disused whaling factory at São Roque that still has the smell of whale oil evoking memories and the saudade of the last workers.
Day 7 : An optional hike to the top of the Pico volcano.
Day 8 : Saturday – return to Switzerland by air.
Map
Length of the holiday

8 days

Departure dates

April to the beginning of November

Price

Price per person in a double room from € 499.–, € 559.–, € 699.–
Family price (2 adults, 2 children) from € 1429.–
Optional Pico climb € 50.–
Supplements: single € 50.–, hotel upgrade (3 star) € 180.–, sea view room € 20.–
Included with the holiday
welcome and transfer from Faial or Pico airport to hotel in Lajes do Pico
7 nights in a 2 star hotel accommodation, bed & breakfast
5 boat excursion (boat, fuel, harbour costs, equipment, etc.), weather permitting
access to the services of the BOCA
mountain bike, kayaks
library
insurance (general assistance, illness, accident, cost of rescue operations)
entrance to the whaler's museum
government taxes, whale watching permit
Not included with the holiday
flights from Switzerland
travel insurance (highly recommended)