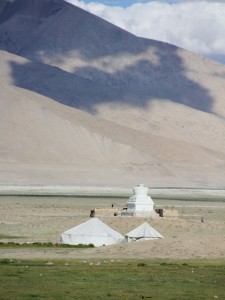 M
onasteries, and summits, a alluring marriage of different facets of Ladakh. Initially you visit the monasteries of the Indus Valley, before heading to the Nubra valley, close to Central Asia, then cross the last Himalayas in 5 days to return to Leh. From there, drive to Tibetan Ladakh, where the Gods are masters. See the astounding beauty of the Changthangs, their purity and the magnificent proportions of their lakes. Discover the life of nomads and the simplicits of their lives so different from ours. Journey to the Himalayas not only for the maountains but also for the people. With our local team, mainly from the Nubra valley, you will have the chance to get truly close people of the land ! Be ready for some life-changing encounters: monks, sages and the children.
Length of holiday:
20 days (19 nights)
Departure dates:
June to September by request
Tempted to go ?
Features of the holiday
| | |
| --- | --- |
| Destination: | Asia, India, Ladakh |
| Season: | Summer |
| Responsible travel: | Economy, Environmentally-friendly transportation, Food, Local food, Micro-economy, Transportation |
| Travel type: | Sports holidays |
| Traveller type: | Couple, Family, Small group, Solo |
| Activities: | Camp, Sport, Tour, Trekking |
| Accommodation: | Camp, Home stay, Hotel, Tent |
| Natural environment: | Ibex, Mountain, Steppe, Yak |
| Culture: | Architecture, Buddhism, Customs, History, Legendary creatures, Legends, Philosophy, Temple, Vernacular architecture, Yeti |
| Climate: | Alpine, Cold |
Click on the above keywords to browse other holidays with a similar feature.
Itinerary of the holiday
Day 1 : Geneva – Delhi.
Day 2 : Delhi – Leh. O/N Homestay.
Day 3 : Leh, visit monastery and Tibetan medical centre. O/N Homestay.
Day 4 : Leh, visit monastery of Alchi and Likir. Alchi, UNESCO patrimony.
Day 5 : Leh – Phyang: visit monastery. The Stok Khangri, 6120 m.
Day 6 : Trek Phyang Dok – Lasermo basecamp (4690 m). Camp at the foot of the glacier.
Day 7 : Trek Lasermo basecamp – North basecamp. Trek down the path to the Nubra Valley. Basecamp.
Day 8 : Trek North basecamp – Hundar mountain pasture. Doks Plateau. Camp neat Doks.
Day 9 : Trek Hundar mountain pasture – Hundar hamlet. Doks. Then follow the gorge as far as the village of Hundar. Camp.
Day 10 : Nubra Valley as far as Tultuk, Pakistan border. Rarely visited monasteries.
Day 11 : Explore the valley and dunes. Bactrian Camels of Nubra. Diskit Monastery.
Day 12 : Explore the north of the Nubra Valley, the hot springs of Panamik and the hanging monasteries. O/N Homestay.
Day 13 : Nubra – Sakti: Drive to Indus Valley via the Wari-La Pass. Sakti Village.
Day 14 : Sakti – Lac Tso Khar. Camp at the lakeside.
Day 15 : Tso Khar – Tso Moriri: drive to find the 2 lacs via the high plateau. O/N camp near the lake.
Day 16 : Tso Moriri, towards the lake. Korzok Monastery. O/N camp near the lake.
Day 17 : Tso Moriri – Leh. Drive to Leh.
Day 18 : Leh, day to relax or for personal use.
Day 19 : Leh – Delhi.
Day 20 : Delhi – Geneva.
Map
| | |
| --- | --- |
| Length of the holiday | 20 days (19 nights) |
| Departure dates | June to September by request |
| Price | Maximum 8 participants: CHF 4,350.– pp., 6 participants: CHF 4,790.– pp., 2 & 4 participants: CHF 5,350.– pp. (all flights included!) |
Included with the holiday
international and domestic flights Dehli – Leh return
full-board during the trek but and breakfasts only otherwise
hotel in Delhi
a guesthouse in Leh and tent otherwise
transfer in Delhi
transfers in Ladakh by jeep
all trekking equipment: tents, local Ladakhi guide, cook and kitchen staff, muleteer, mules caravan, camps charges, programme visits
visits in Delhi and entrance fees in Delhi
10% of the trip receipt is donated to local NGOs
Not included with the holiday
meals in Delhi and in Leh
sleeping-bag
obligatory medical and repatriation insurance
tips
personal items
There is no video for this holiday at the moment.