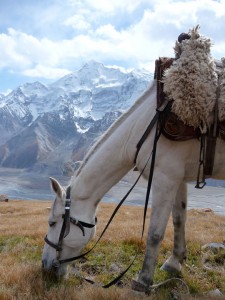 T
here are few places in the world that you will never forget once discovered. Kyrgyzstan is one of these places. The country's beautiful scenery offers endless skies, an amazing mixture of culture originating from so many different sources and a rich, spellbinding atmosphere with a very warm welcome. In a small independent Kyrgyz family run riding company, you discover all these beauties during a horse-back trek in the Central Asian «Mountains of Paradise» : the Kyrgyz Republic. For those who wish to travel with authentic and very friendly local guides, who open the doors of the culture and beautiful landscapes of Kyrgyzstan, there is no equivalent to the travel by horseback.
Destinations:
Length of holiday:
13 days (12 nights)
Departure dates:
From the middle of June to the end of September
Tempted to go ?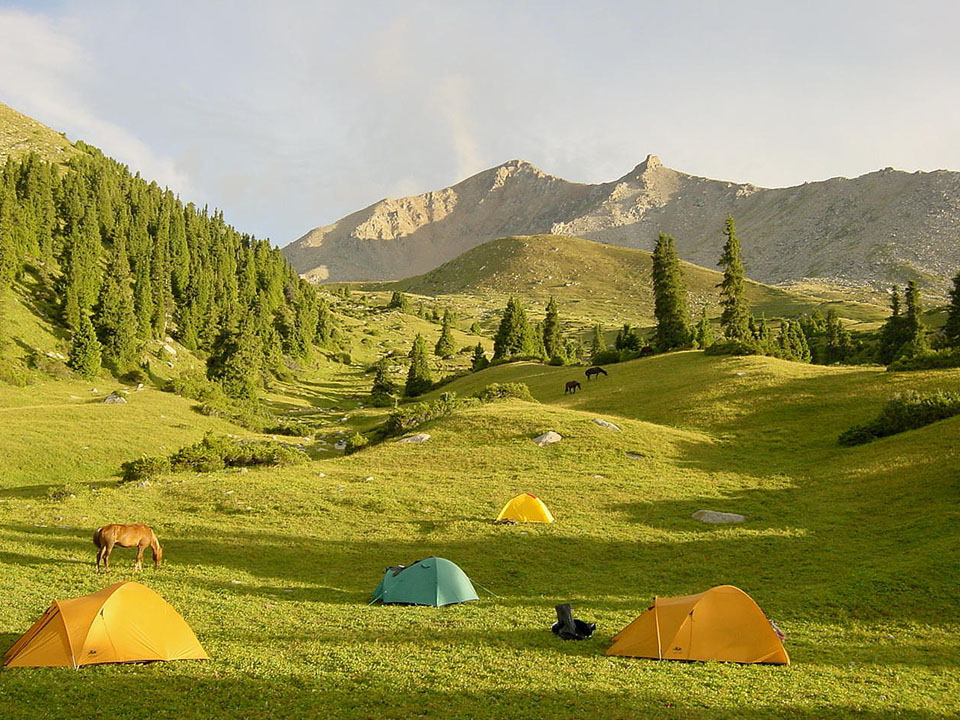 Features of the holiday
| | |
| --- | --- |
| Destination: | Asia, Kyrgyzstan |
| Season: | Spring, Summer |
| Responsible travel: | Economy, Food, Local food, Micro-economy, Organic, Small organization |
| Travel type: | Active holidays |
| Traveller type: | Couple, Family, More mature, Small group, Solo, Student |
| Activities: | Camp, Observation, Riding, Sport, Tour |
| Accommodation: | Ger, Guesthouse, Small hotel, Tent |
| Natural environment: | Argali, Bear, Bearded vulture (Lammergeyer), Cliff, Deer, Eagle, Fauna, Glacier, Horse, Ibex, Lake, Lynx, Marmot, Mountain, Snow leopard, Steppe, Wolf |
| Culture: | Archeology, Artisans, Cathedral, Customs, History |
| Climate: | Alpine, Continental |
Click on the above keywords to browse other holidays with a similar feature.
Itinerary of the holiday
Day 1 : Reception at the airport in Bishkek, transfer to hotel and city tour. Dinner. Overnight at hotel.
Day 2 : Travel to Barskoon, lunch at Boom Canyon.
Day 3 to day 10 : Preparing and starting the trek over 8 days on one of the three routes of the ancient Silk Road.
Day 11 : Drive to Karakol and visit the Jety-Oguz gorge. Lunch in Karakol. Visit the Dungan mosque (Chinese Islam), a Russian Orthodox wooden church, the local history museum (with Ella Maillart information booth) and Prjevalsky museum. Overnight in guesthouse.
Day 12 : Travel from Karakol to the north shore of Lake Issyk Kul and visit the petroglyph site in the city of Cholpon Ata. Lunch on the way and arrived at the hotel in Bishkek. Dinner.
Day 13 : Morning departure for the airport. Flight to Switzerland.
Map
Length of the holiday

13 days (12 nights)

Departure dates

From the middle of June to the end of September

Price

Euro 1,480.– per person (7-8 persons)
Euro 1,650.– (4-6 persons)
Euro 1,790.– (2-3 persons)
Included with the holiday
Reception at the airport
all transfers
hotel accommodation (3 nights in Bishkek), house or yurt on arrival and before departure (2 nights and 1 night Barskoon Karakol), accommodation in tents during the trek (7 nights)
English speaking guide
a cook
three meals a day
cooking equipment
tents
horse and horse equipment
first aid kit
Not included with the holiday
flights
travel insurance (compulsory and to includes horseback riding)
dinners in Bishkek on days 1 and 12
drinks on the road to Barskoon, Karakol and when returning to Bishkek
museum tickets
There is no video for this holiday at the moment.