L
ake Mývatn is located north of the Iceland at latitude 65°6, right on the active Mid-Atlantic Ridge from which the island was created. A trip to Lake Mývatn is an immersion in nature where the forces of the earth are at their strongest and where man has been able to develop and maintain traditions such as baking bread in the hot volcanic ground, the ice fishing… The Mývatn region offers an incredible diversity in a small area avoiding long road trips. The specified periods are out of season so it is quiet allowing the maximum enjoyment of tranquility, and especially because Mývatn offers a very different face at this time. Recharge at the end of the world with four seasons of Iceland: volcanic hot water baths, contemplation, hikes, together with culture and traditions, observation of birds and volcanoes.
Length of holiday:
8 days (7 nights)
Departure dates:
17 to 24 September 2017
Tempted to go ?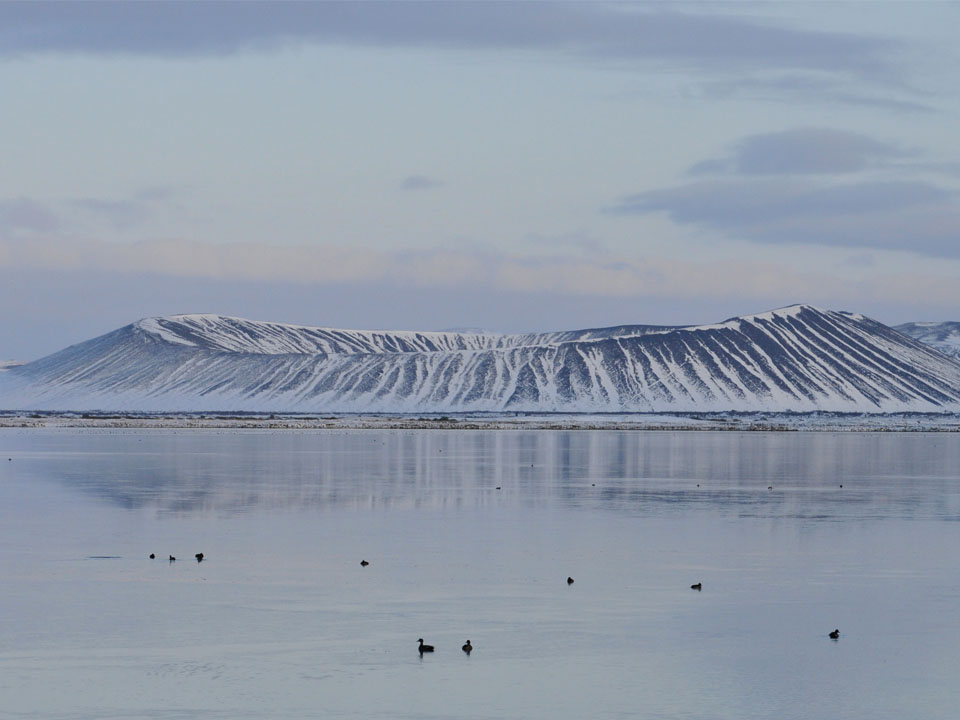 Features of the holiday
| | |
| --- | --- |
| Destination: | Europe, Iceland |
| Season: | Autumn, Spring, Winter |
| Responsible travel: | Economy, Environmentally-friendly transportation, Food, Local food, Micro-economy, Organic, Possible without flight, Transportation |
| Travel type: | Mixed holidays |
| Traveller type: | Couple, Family, Small group, Solo |
| Activities: | Cross-country skiing, Sport, Thermal baths, Trekking |
| Accommodation: | Guesthouse, Hotel |
| Natural environment: | Island, Volcano |
| Culture: | Artisans, Customs |
| Climate: | Continental, Oceanic, Subarctic, Temperate |
Click on the above keywords to browse other holidays with a similar feature.
Itinerary of the holiday
Day 1 : Flights from Geneva to Reykjavik. Internal flight Reykjavik – Akureyri. Welcome by your guide and drive to Mývatn. Evening meal and exercises befor turning in for the night.
Day 2 : Visit to Dimmuborgir & Hverkfell Volcano.
Day 3 : Namaskard Hills Solfataras (sulphur springs).
Day 4 : Krafla Caldera and the recent lava fields of Gjástyki.
Day 5 : The Kálfaströnd peaks and Höfdi Peninsula.
Day 6 : The Laxá Torrent.
Day 7 : The Godafoss Waterfall then transfer to Akureyri for flights to Reykjavik. Free afternoon in Reykjavik. Overnight in guesthouse in Reykjavik.
Day 8 : Return flight to Switzerland.
Map
| | |
| --- | --- |
| Length of the holiday | 8 days (7 nights) |
| Departure dates | 17 to 24 September 2017 |
| Price | € 2'690.– (6–12 pers.) |
Included with the holiday
internal flight Reykjavik – Akureyri
transfers between Akureyri and Mývatn
English & French speaking from D1 to D7
twin/double room, no single supplement
full-board from dinner on D1 to breakfast on D7
accommodation in chalet or homestays
daily entry to the hot baths at Mývatn from D2 to D6
return flight Akureyri – Reykjavik
one night in a guesthouse in the centre of Reykjavik
Not included with the holiday
flights Geneva – Reykjavik
airport transfers except between Akureyri and Mývatn
evening meal in Reykjavik and lunch on D7 in Akureyri
small group supplement for groups of 4-5 at € 150 pp.
obligatory health/first aid & repatriation insurance
There is no video for this holiday at the moment.