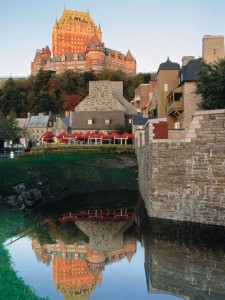 W
ith this itinerary we offer you a route bringing exceptional sites in Quebec as an introduction to this beautiful province. You'll find the Canadian wilderness, Québécoise culture, beautiful countryside, and two iconic cities. Together with a guide book, you'll use public transport – train, bus, and community taxi – allowing you to travel the people of Quebec. In the parks you will enjoy nights in a lodge, and a tent; you experience the Canadian fauna and flora, you go canoeing on the lakes and hike in the Parks. This is a great trip for a couple, or a family. And above all, it is great for the kids…
Length of holiday:
12 days (11 nights)
Departure dates:
May–October
Tempted to go ?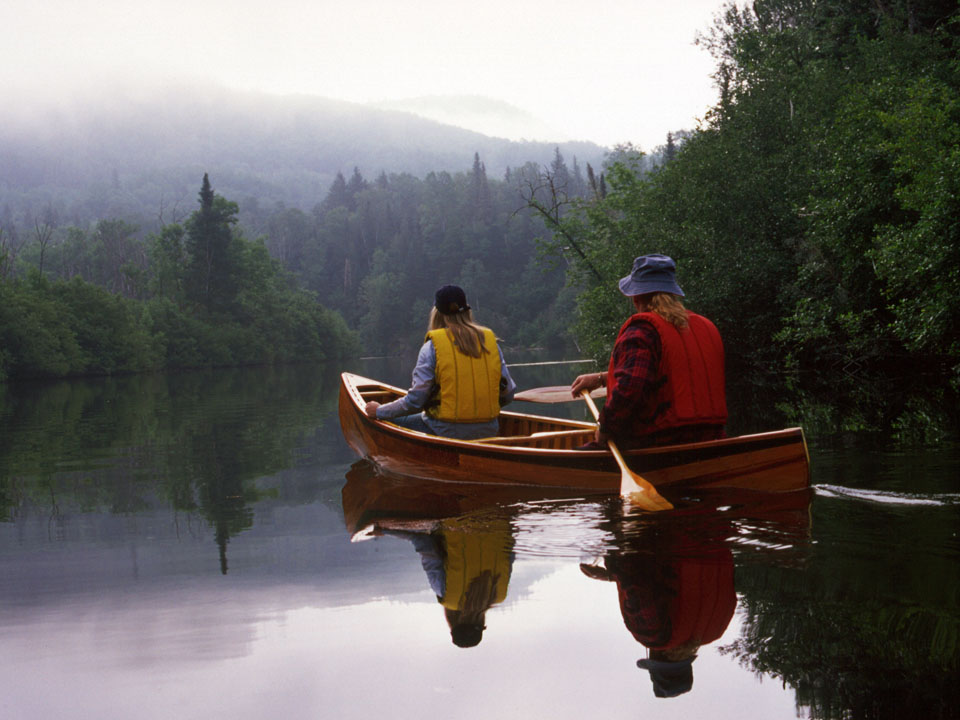 Features of the holiday
| | |
| --- | --- |
| Destination: | Canada, Quebec |
| Season: | Autumn, Spring, Summer |
| Responsible travel: | Accommodation, Environment, Environmentally-friendly transportation, Micro-economy, Sensitization, Small organization, Transportation |
| Travel type: | Active holidays |
| Traveller type: | Couple, Family, More mature, Small group, Solo, Student |
| Activities: | Camp, Kayak, Observation, Tour, Trekking, Walk |
| Accommodation: | Camp, Small hotel, Tent |
| Natural environment: | Bear, Birds, Dolphin, Forest, Lake, Mountain, Whale, Wolf |
| Culture: | Artisans, Customs, History |
| Climate: | Continental, Subarctic |
Click on the above keywords to browse other holidays with a similar feature.
Itinerary of the holiday
Jour 1 :Arrival at the airport in Montreal and make your own way to the guesthouse.
Jour 2 : Montreal.
Jour 3 : Train to Lake Edward and check-in at the lodge.
Jour 4 : Activities at the lodge.
Jour 5 : Train to Lake Saint-Jean and check-in the Pointe-Taillon National Park.
Jour 6 : Activities in the Pointe Taillon National Park.
Jour 7 : Bus to Tadoussac and the Saguenay, observation in the park.
Jour 8 : Observation in the Saguenay then bus to Baie Saint-Paul.
Jour 9 : Free day in Baie Saint Paul.
Jour 10 : Free morning in Baie Saint Paul then bus to Quebec City.
Jour 11 : Quebec City.
Jour 12 : Transfer by bus or train to Montreal airport and flight to Switzerland.
Map
Length of the holiday

12 days (11 nights)

Departure dates

May–October

Price

CHF 1,990.– per child (-12 ans)
CHF 2,142.– per adult (double room)
CHF 2,920.– per adult (single room)
(Prices are valid only if the guesthouses, lodges and tents mentioned are available at the time of booking.)
Included with the holiday
11 nights accommodation (guesthouse, lodge, tent)
9 breakfasts (no included breakfast Pointe Taillon National Park)
2 lunches and 2 dinners at the Seigneurie du Triton
activities to the Seigneurie du Triton according to the schedule and availability (some on-site activities are not included in the package, eg. seaplane ride, fishing, watching the black bear, etc. (these activities can be booked on site)
bike trailer for 2 days in the Pointe Taillon National Park
whale watching zodiac trip
transportation and transfers as per itinerary
Not included with the holiday
flights
travel insurance
personal expenses not mentioned
activities not mentioned
meals not mentioned
alcoholic drinks
mineral water
airport-hotel transfer in Montreal
transfer hotel central station in Montreal
Quebec City transfers station-hotel-station
metro & bus passes in Montreal and Quebec City
baggage handling
There is no video for this holiday at the moment.