B
olivia is a fascinating country that will reveal natural wonders and a variety of ecosystems. It will show you the most ancient civilizations of South America, and maybe of the world. A country which can be visited from the Andean high plains to the Amazon river basin; from the deserts to the rain forests. La Paz, Lake Titicaca, the Tiwanaku sites, the Altiplano, volcanoes, the Uyuni salt flats and the desert of Salar, lagoons… And why not a journey on into the Amazon rainforest or visit the colonial cities of Potosi and Sucre ? This trip will take you into the ancient civilizations of the Tiwanaku and the Inca, and allow you to rub shoulders with the local people in the company of a knowledgeable local guide throughout this mysterious country.
Destinations:
Length of holiday:
12 days (11 nights) 4-day extension possible: Mountain Tropical Forest or Colonial Towns
Departure dates:
April–October
Tempted to go ?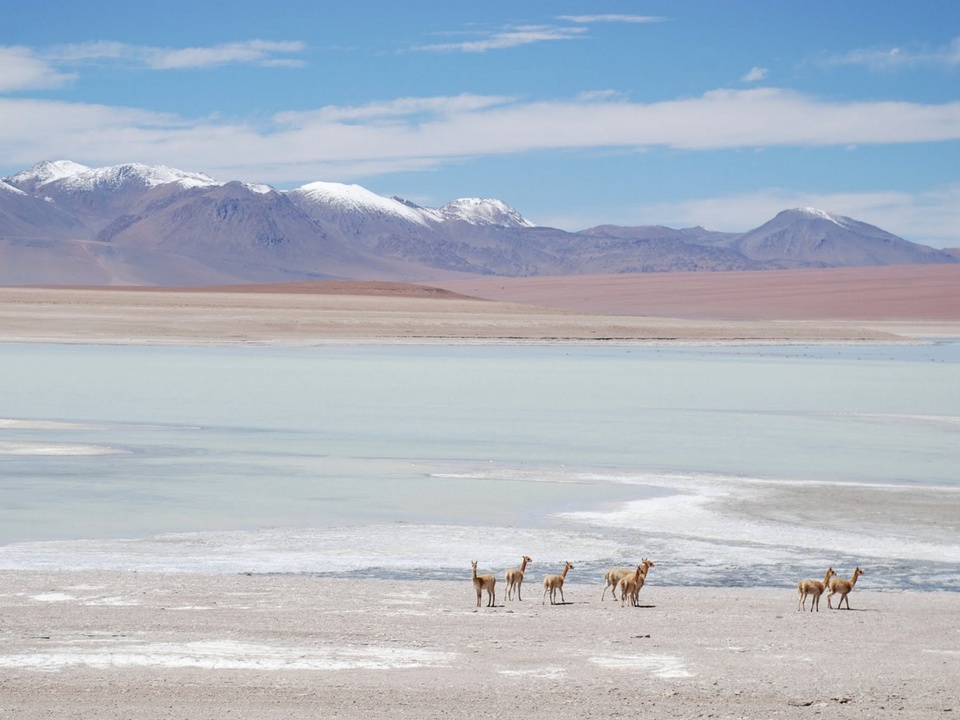 Features of the holiday
| | |
| --- | --- |
| Destination: | Altiplano, Andes, Bolivia, South America |
| Season: | Autumn, Spring, Summer |
| Responsible travel: | Accommodation, Environmentally-friendly transportation, Food, Local food, Micro-economy, Public transportation, Small organization |
| Travel type: | Mixed holidays |
| Traveller type: | Couple, Family, More mature, Small group, Solo |
| Activities: | Bike ride, Camp, Observation, Thermal baths, Tour, Trekking, Walk |
| Accommodation: | Guesthouse, Hotel, Small hotel, Tent |
| Natural environment: | Cave, Desert, Flamingo, Fossils, Geology, Island, Jungle, Lake, Llama, Mountain, Paleontology, Rhea, Vicuña, Viscacha, Volcano, Vulture |
| Culture: | Archeology, Architecture, Art, Artisans, Colonial style, Customs, History, Mine, Technology, Temple, Vernacular architecture |
| Climate: | Alpine, Cold, Desert, Dry, Polar |
Click on the above keywords to browse other holidays with a similar feature.
Itinerary of the holiday
Day 1 : Arrival & night in La Paz.
Day 2 : La Paz. Neighbourhoods, markets, vistas, local cuisine.
Day 3 : Bus La Paz–El Alto–Tiwanaku. Archeological site.
Day 4 : Walk to lake Titicaca.. Boat to Sikuya Island.
Day 5 : Boat to Suruqui Island. Artisanal work for reed watercrafts. Shipyard for wood boats. Navigation on the lake.
Day 6 : Oruro. Mining town. Andean railway to Uyuni.
Day 7 : Train cemetery. Salar, the salt flat.
Day 8 : Volcanos & lagoons. Local flora & fauna (pink flamingos, vucuñas).
Day 9 : Geysers. Bathing in the thermal waters. Lagoons. Return to Uyuni.
Day 10 : Return to La Paz. A choice of programs : museums, Colonial areas, markets, a bike ride or a walk in the surroundings of La Paz.
Day 11 : On your own in La Paz.
Day 12 : Departure for Switzerland.
4-day extension possible: Mountain Tropical Forest or Colonial Towns
Map
Length of the holiday

12 days (11 nights)

4-day extension possible: Mountain Tropical Forest or Colonial Towns

Departure dates

April–October

Price

Price per person in a double room:
CHF 4,995.– (1 pers.)
CHF 3,035.– (2 pers.)
CHF 2,440.– (3 pers.)
CHF 2,200.– (4 pers.)
CHF 1,995.– (5 pers.)
CHF 1,905.– (6 pers.)
CHF 1,845.– (7 pers.)
CHF 1,785.– (8 pers.)

Single room supplement: CHF 300.–
Included with the holiday
accommodation (tent, guesthouse, hotel),
all meals except evening meal in towns/villages,
transfers,
all activities described in the itinerary,
english-speaking guide,
local guides,
camping equipment
Not included with the holiday
international return flights,
travel insurance (highly recommanded),
excursions and activities not mentioned in the programme,
alcoholic beverages,
evening meal drinks,
tips,
personal expenses
There is no video for this holiday at the moment.