While in the mountains you must have been in the frustrating situation of trying to name a flower, knowing the reason for certain plants to dominate a small area, the origin of a rock or why the obvious rock strata exist in the landscape. Existing books may not have given you a satisfactory answer…
We offer four interesting themed walks over the summer of 2012. We have arranged day walks or hikes accompanied by specialists to give you an insight of their subject: botany and geology of the Alps.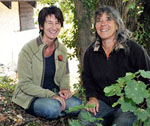 Marlène Galletti & Rose Panchard, herborists and alpine guides, will illustrate the local ecology of plants in two enchanting settings – the Val de Réchy and in the surrounding area of Pont-de-Nant and the Vare plateau.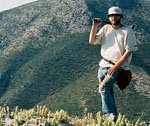 Eric Champod, a qualified geologist, will show you the visible strata to take you back in time and to help you understand the constantly changing geology under majestic Mont-Blanc and Weisshorn mountains.
We can offer, on request, an organic picnic when you register for any of these excursions.
» Aromatic Walk in the Val de Réchy
» Tracing the Destiny of the Alps in Zinal: From a Lost Ocean to the Almost Last of the Glaciers
» Aromatic Walk from Pont-de-Nant to the Vare Plateau