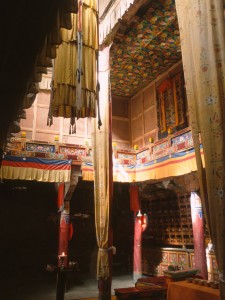 A
magnificent two-week itinerary to the sources of the Indus combining three days of easy walking from village to village along the Indus, exploring monasteries and mythical spiritual sites, all the while immersed in the local culure. In Leh, at 3500 m, after a 2-day visit in the region, a short trek takes travelers over 4 days from village to village in the heart of Ladakh at altitudes always varied between 3300 and 3700 m. Then visit the wonderful Lamayuru monastery before going to the extreme north of Ladakh, in the Nubra valley, at 3250 m. This is a superb introduction to Ladakh and its wonders – accessible to all. A holiday in the Himalayas moves and fills the heart, it opens another path ! Allow yourself to explore this corner of paradise.
Length of holiday:
15 days (14 nights)
Departure dates:
Mid-May to mid-October
Tempted to go ?
Features of the holiday
| | |
| --- | --- |
| Destination: | Asia, India, Ladakh |
| Season: | Autumn, Spring, Summer |
| Responsible travel: | Economy, Environmentally-friendly transportation, Food, Local food, Micro-economy, Transportation |
| Travel type: | Active holidays |
| Traveller type: | Couple, Family, Small group, Solo |
| Activities: | Sport, Tour, Trekking, Walk |
| Accommodation: | Home stay, Hotel, Small hotel |
| Natural environment: | Ibex, Mountain, Yak |
| Culture: | Architecture, Buddhism, Customs, History, Philosophy, Temple, Vernacular architecture |
| Climate: | Alpine, Cold |
Click on the above keywords to browse other holidays with a similar feature.
Itinerary of the holiday
Days 1 & 2 : Geneva – Delhi, Delhi – Leh. Homestay overnight.
Day 3 : A light walk in the area and a visit to the Sangkar. Homestay overnight.
Day 4 : Hemis Monastery, C17. Tiksey Monastery. Overnight in a hotel.
Day 5 : Likir Village & Monastery. Start of the trek from village to village in the Indus Valley. Homestay overnight.
Day 6 : Hémis Shupachen, Village, ancient cedars of the Himalaya. Homestay overnight.
Day 7 : Crossing the Mebtak pass and the villages of Ang and Tenisgang. Homestay overnight.
Day 8 : Village of Lamayaru & Monastery. Walk along the Indus.
Day 9 : Village of Alchi & Monastery, Leh.
Day 10 : Road transfer along the highest vehicular road in the world (5600m) over the Kardung La pass. Diksit Monastery.
Day 11 : Visit Lomdon School, walk in the sand dunes of Hundar. Homestay overnight.
Day 12 : Village of Panamik & rarely visited monasteries. Homestay overnight.
Day 13 : Return to Leh, walking tour. Visit to a traditional Amchi healer (Tibetan doctor). Homestay overnight.
Days 14 & 15 : Leh – Delhi, Delhi – Geneva.
Map
| | |
| --- | --- |
| Length of the holiday | 15 days (14 nights) |
| Departure dates | Mid-May to mid-October |
| Price | Maximum 6 participants: CHF 2,070. pp., 4 participants: CHF 2,760.– pp., 2 participants: CHF 3,335.– pp. |
Included with the holiday
all land transfers (jeep or minibus)
all meals in Ladakh
all entry fees to the museums and monasteries
all home-stays (separate double rooms with bathroom on the floor with dry toliets)
a multilingual Swiss guide et a local Ladakhi guide
10% of the trip recipt is donated to the Darshan Academy in Delhi, School for future peacemakers as well as different projets that we consider appropriate in Ladakh
Not included with the holiday
international and domestic flights
meals in Delhi
sleeping bag
obligatory medical and repatriation insurance
tips
personal items
There is no video for this holiday at the moment.