E
xplore the southern Caribbean as the well known explorers have done in the past – by sail. Take the chance to climb several peaks including two volcanoes are still active but currently dormant… Explore the rainforest, taste some of the best Creole cuisine while watching the reef and the abundant wildlife around you. Start with three enchanting nights on a tiny island off the Atlantic coast of Martinique, a first day spent relaxing, another to hike to the summit of Mount Pelee, and the third to start the sail south on a 13 metre catamaran. Then, a cruise along the southern islands where you spend your time swimming, hiking and snorkelling on the coral reefs, see the leatherback turtles nesting, and keep track of rare birds with a biologist. To finish off your holiday you spend the last night off a deserted island between the island of Trinidad and the continent of South America.
Destinations:
Length of holiday:
14 days (13 nights)
Departure dates:
Departure from December to June (minimum 6 persons)
Tempted to go ?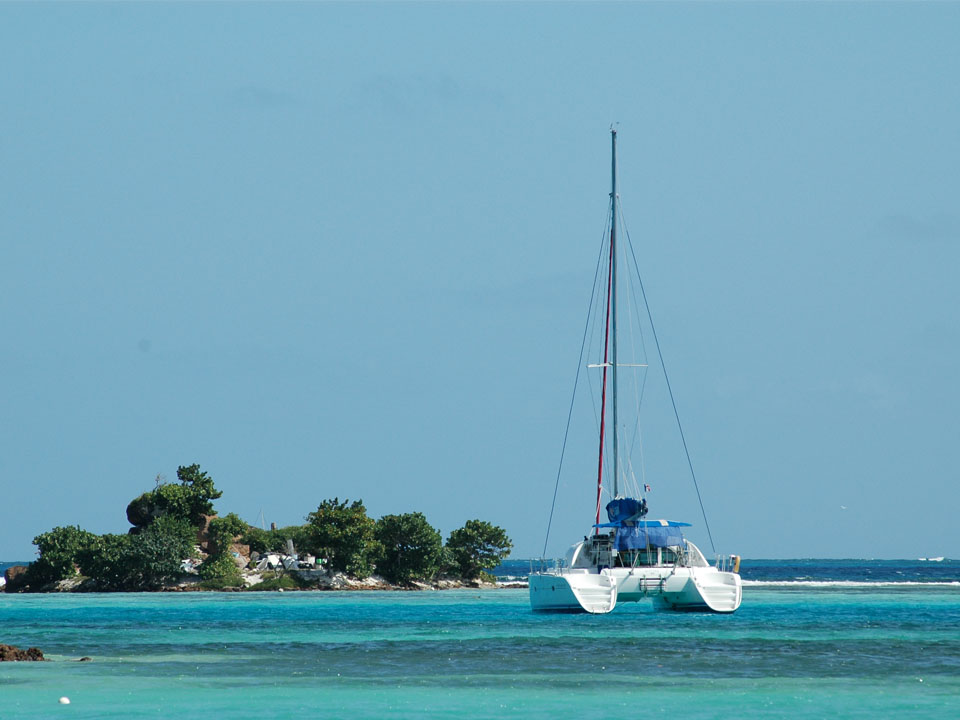 Features of the holiday
| | |
| --- | --- |
| Destination: | Antilles, Caribbean, Central America, Grenadines, Martinique, Saint Lucia, Saint Vincent, Trinidad and Tobago |
| Season: | Spring |
| Responsible travel: | Accommodation, Eco hotel, Economy, Environmentally-friendly transportation, Food, Local food, Micro-economy, Small organization, Transportation |
| Travel type: | Mixed holidays |
| Traveller type: | Family, Small group |
| Activities: | Cruise, Observation, Sailing, Snorkeling, Sport, Trekking |
| Accommodation: | Boat, Sailing boat, Small hotel |
| Natural environment: | Island, Leatherback sea turtle, Marine fauna, Mountain, Reef, Sea, Sea turtle, Tropical plants, Volcano |
| Culture: | Architecture, Colonial style, History |
| Climate: | Tropical |
Click on the above keywords to browse other holidays with a similar feature.
Itinerary of the holiday
Day 1 : Arrival at the airport and transfer to the Islet.
Day 2 : Relaxation day – for unwinding.
Day 3 : Hike the Pelée volcano overlooking St.Pierre.
Day 4 : Early morning departure by sail for St. Lucia.
Day 5 : Hike Gros Piton then relay in the thermal baths.
Day 6 : Sail to Petit Byahaut in St. Vincent then Chateau Bel-air.
Day 7 : Hike the volcano Soufrière then sail for Bequia.
Day 8 : Explore Port-Elisabeth then sail for the Grenadines.
Day 9 : Snorkling in the Tobago Cays then sail for Canouan.
Day 10 : Cruise Union & Palm Islands, Petit Saint-Vincent & Petit Martinique then head south to Tobago.
Day 11 : Cruise the Caribbean coast of Tobago to Pigeon Point, cross to Galera Point, Trinidad and along to Grande Riviere (Trinidad) to see the nesting Leatherback turtles.
Day 12 : Walk in the forest with an orthinologist.
Day 13 : Sail along the North Coast to Chacachacare Island passing through the Dragons Mouth to have dinner and spend the night.
Day 14 : Breakfast and sail onto Chaguaramas, transfer to the airport for your flight onto Martinique to connect with your flight to Europe.
Map
| | |
| --- | --- |
| Length of the holiday | 14 days (13 nights) |
| Departure dates | Departure from December to June (minimum 6 persons) |
| Price | Price per person in a double cabin: from CHF 4,000.– |
Included with the holiday
all transport over 14 days of the trip in the Windward Islands
3 nights in double room in a small hotel
10 days sailing trip with a professional skipper and a guide-cook on each catamaran
all meals except 4 evening meals
non-alcoholic beverages and local beer
hiking guides
Not included with the holiday
trans-atlantic flights
4 evening meals
holiday insurance (highly recommended)