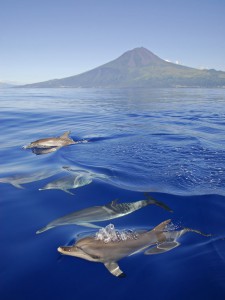 I
n the Azores the animals that we observe are wild and free. The dolphins are sensitive animals. With twenty years of experience running the Dance with the dolphins programme, several factors have bearing on the success of encounters between men and dolphins. These include the length of time spent in the water, the swimmers stress levels and their comfort in the open sea, the presence of young animals in the group and the general character of the species. You are more likely to want to swim with the dolphins, to slip into the water to be in their world, Sometime ago one of a group said it was going to their home. Its very true, when you enter the blue Atlantic you open the door to another dimension, you do enter their home. My deepest wish is to see you coming back on board with a broad smile on your face and to hear you say «I was in their element, he looked me right in the eye.» (Serge Viallelle,
Espaço Talassa
)
Length of holiday:
8 days
Departure dates:
June to the beginning of November
Tempted to go ?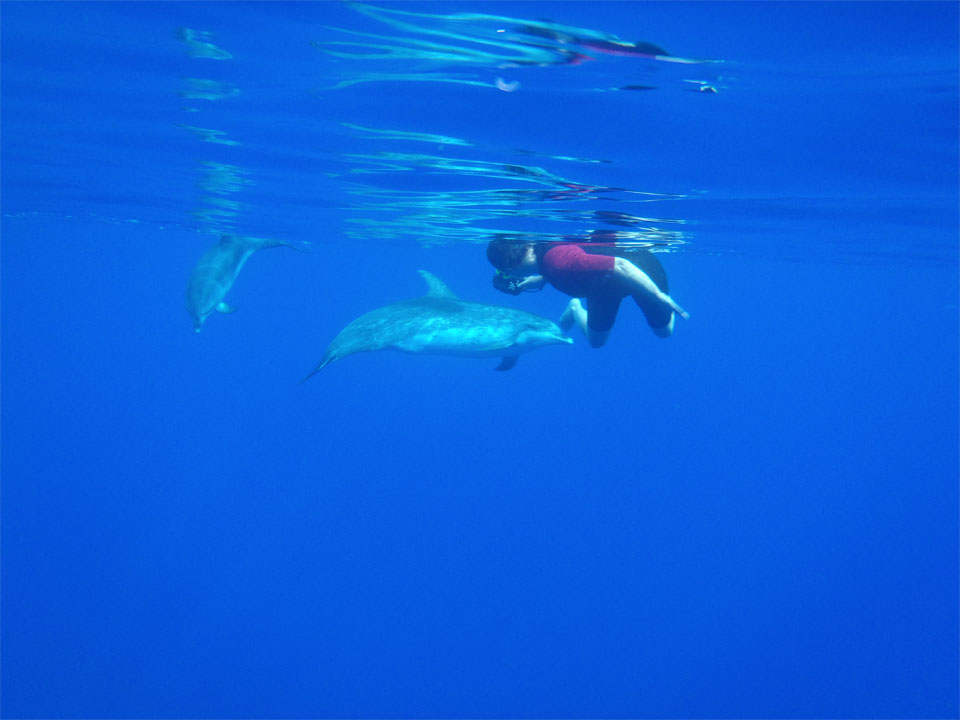 Features of the holiday
| | |
| --- | --- |
| Destination: | Azores, Europe, Portugal |
| Season: | Autumn, Spring, Summer |
| Responsible travel: | Carbon offset, Economy, Environment, Micro-economy, Sensitization |
| Travel type: | Active holidays |
| Traveller type: | Couple, Family, Small group, Solo |
| Activities: | Mountain bike, Observation, Sea kayak, Snorkeling, Sport, Tour, Trekking |
| Accommodation: | Small hotel |
| Natural environment: | Dolphin, Ecosystem, Island, Marine fauna, Sea, Volcano, Whale |
| Culture: | Architecture, Vernacular architecture |
| Climate: | Oceanic, Temperate |
Click on the above keywords to browse other holidays with a similar feature.
Itinerary of the holiday
Day 1 (Saturday) : Flight from Geneva to Lisbon and Faial. Welcome at Airport Horta (or Pico). Then ferry to Lajes do Pico, the Azores Whale Sanctuary.
Day 2 to Day 6 : Outings in the morning to the dolphins. Watch, listen and approach to photograph and swim. Afternoon at your leisure. Whaling Museum, the most comprehensive library in the world on the art of hunting, visit the vigia of Queimada. Available documentation (book, video, Internet access). Sea kayaking, mountain biking, snorkeling. Visit of the former whale processing plant São Roque still with the smell of whale oil and memories of the whalers.
Day 7 : (optional) Pico volcano summit hike.
Day 8 (Saturday) : Lajes do Pico/Airport and return to Switzerland.
Map
Length of the holiday

8 days

Departure dates

June to the beginning of November

Price

Price per person depending on the season: € 625.–, € 730.–, € 839.–
Optional: Pico summit hike: € 50.–
Single supplement: € 95.–, 3 star hotel: € 180.–, sea view € 20.–
Included with the holiday
welcome at the airport and transfer to Lajes do Pico
7 nights in a 2 star hotel (with breakfast)
5 daily trips to sea (water, gas, shipping, aircraft equipment, tracking …)
coaching
access to the BOCA
mountain biking, sea kayaking, snorkeling equipment
library
extra insurance
admission to the museum of whaling
license fees for the observation of cetaceans
Not included with the holiday
flights from/to Geneva
travel insurance (highly recommended)